Guide Dog Training
Teaching our dogs with industry-leading innovations.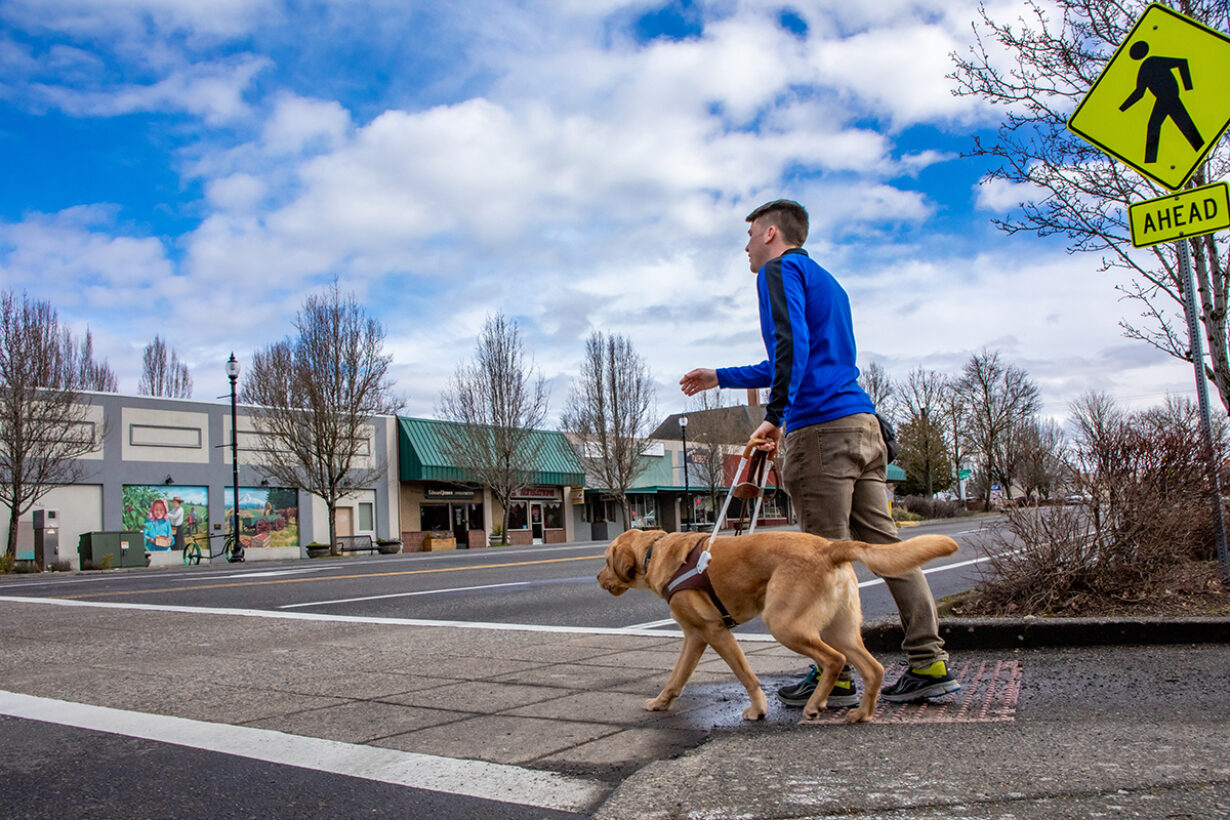 Once Guide Dogs for the Blind's grown dogs return to our campuses from the homes of our volunteer puppy raisers, they are ready to learn the tools of the trade. They discover how to become not just well-behaved, meticulously socialized dogs, but professionals!
Now, they are about to embark on the career for which they've been preparing. For two to three months the dogs are taught by our professional guide dog mobility instructors to safely guide someone through the complexities of pedestrian travel. Our Guide Dog Training Program maximizes the use of positive reinforcement methods, including science-based Clicker training.
Unique Abilities of Guide Dogs
Our dogs are smart—very smart! In addition to learning how to lead a person safely around obstacles, guide dogs are also trained in "intelligent disobedience": if they are given an unsafe cue from their handler, they are taught to disobey it (for example: refusing to step out into the street when there is oncoming traffic). Guide dogs are also trained to have impeccable manners (for all those times they visit places of public accommodation, such as restaurants, grocery stores and public transportation), and are capable of avoiding distractions (such as cats!). In addition, all guide dogs possess an eagerness to please and a willingness to work. They choose their profession!

Guide dogs take their cues and direction from their human partners; it's up to the person to determine the routes they take and if it is safe to cross a street. Through repetition, they may remember a routine course, but it is the handler's job to know where they are at all times.
Some of the skills guide dogs learn:
Leading a person in a straight line from point A to point B
Stopping for all changes in elevation, including curbs and stairs
Stopping for overhead obstacles, such as tree limbs
Avoiding obstacles in their path
Two things guide dogs can't do:
Determine the route to a new destination
Read traffic signals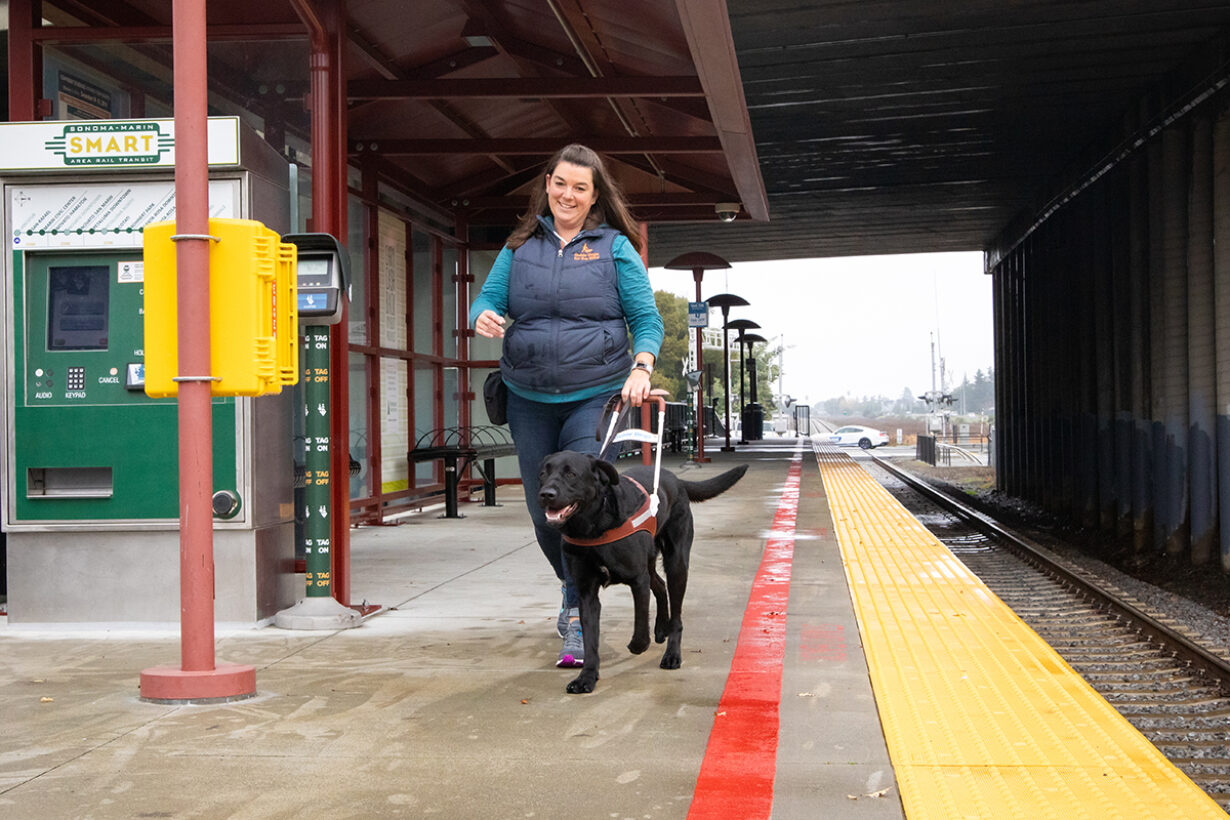 Guide Dogs for the Blind's Dog Training Methods
Our dogs are trained with positive reinforcement methods that use high value rewards of both food and praise. An abundance of rewards, including physical and verbal affection, builds motivation and confidence, and creates a happy working guide dog. Positive reinforcement methods strive to make the novice dogs successful and prevent them from making errors. As the training advances, dogs are given the freedom to make errors. Instructors use verbal cues and collar cues to gain the desired responses from the dogs, which are followed by rewards.
When a Dog is Paired With a Client
Once the dogs have completed their formal guidework training, they are ready to enter what we call "class training." This is when a fully-trained dog is matched with a client who is visually impaired and enrolled in one of our residential classes. We are committed to pairing the right dog with the right person. Our extensive training ensures that the team is compatible in every area, from communication styles to personalities. The newly-matched team spends two weeks learning to work together in a variety of real-life situations. Graduation day marks the end of class training and a new beginning for the team as they make their way in the world. It is a special day filled with a lot of love, as puppy raisers, soon-to-be-graduates, and guide dogs all take the stage to celebrate their achievements.
Life for a Working Guide Dog
What dog wouldn't envy the life of a guide dog? Guide dogs get to go everywhere and do everything their partners do and they are showered with attention. From work and school, to shopping malls, restaurants, and hiking trails, guide dogs lead very active lives. When the harness is on, guide dogs are "all business" - serious about their work, and focused on the safety of the team. When the harness comes off, however, it's play time!
Length of a Guide Dog's Service
Most guide dogs work until they are around 8-10 years old, but this varies with individual dogs and their lifestyles. After spending a life of devoted partnership, guide dogs deserve to spend their senior years in comfortable (and pampered!) retirement. They may remain with their partner as a pet, return to the home where they were raised, or be placed in a loving adoptive home. In all cases, they are honored and loved.