Veterinary Services
Providing our dogs with the best possible medical care.
Guide Dogs for the Blind's dogs and puppies receive top-notch care from a team of full-time staff veterinarians and technicians, supported by outside specialists and volunteers. Our dogs love to visit the clinics on our campuses not only for the treats but for the love and attention they receive. The inviting veterinary clinics feature examination rooms that are equipped with hydraulic lift examining tables and scales, as well as surgical suites for routine procedures. The clinics are outfitted with the latest in high-tech medical equipment to ensure that our dogs are getting the best care and treatment possible throughout their lives.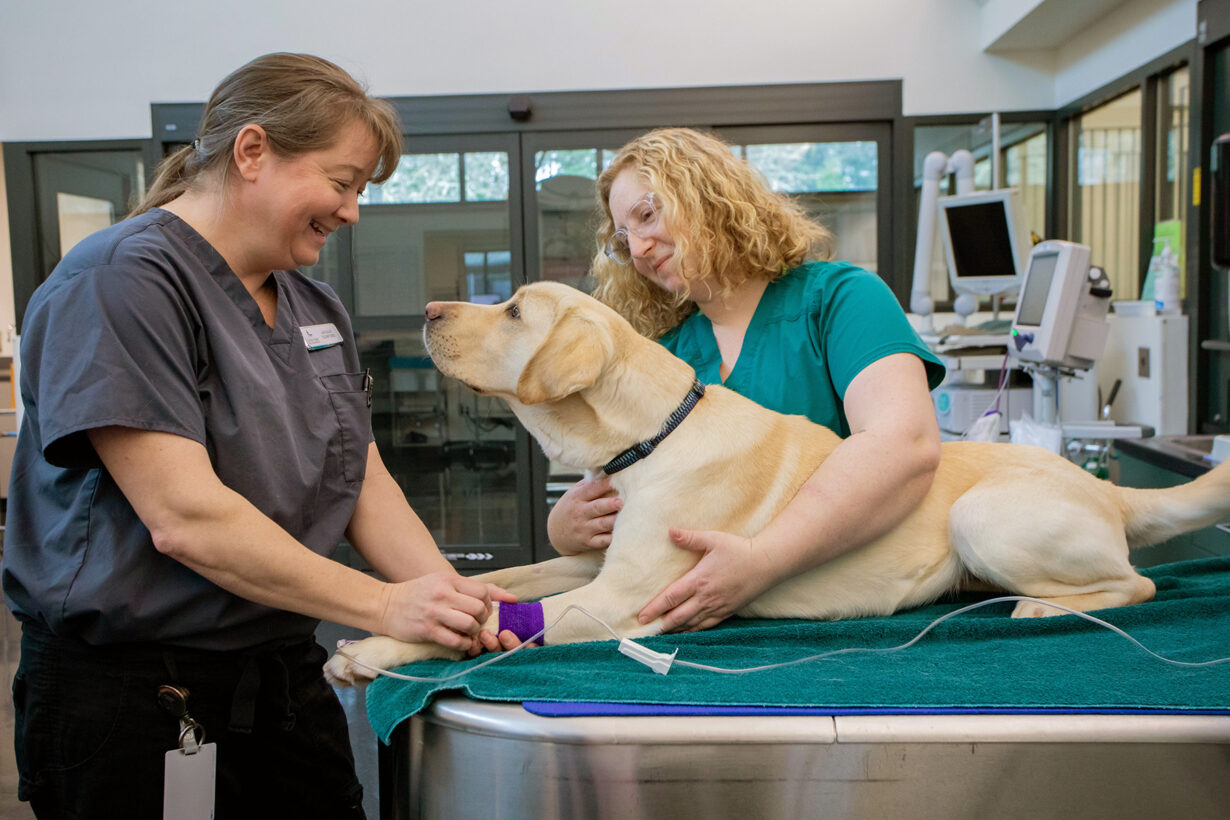 Guide Dogs for the Blind is one of the only guide dog schools in the world providing financial assistance, as needed, to our clients for veterinary care.
Our veterinary staff is there for the dogs throughout their lives, and are available by phone 24 hours a day for emergencies. From the time they are puppies receiving vaccinations, until they become guide dogs or K9 Buddies, our veterinarians ensure their continued health. Our veterinarians also care for our breeder dogs throughout their years of service and beyond. As the pups transition into volunteer puppy raising homes, our staff consults with the raisers' local veterinarians. Once back at our campuses as adolescents, the dogs all are reacquainted with our veterinary staff who do their check-ups during their formal guidework training. For K9 Buddies or guide dogs, our veterinarians consult with their peers wherever our clients reside throughout the United States and Canada.
Some of the procedures our dogs and pups receive at our campus clinics include:
Vaccinations
Spay/neuter surgeries, generally performed with the latest laparoscopy surgical equipment
Digital X-rays (to check their hips and joints)
Ophthalmology exams
Physical exams
Dental prophylaxis, extractions, and digital oral X-rays
Endoscopy (to retrieve foreign objects and evaluate internal organs)
Ultrasounds (to monitor the status of in-utero puppies, or to check a dog's heart and other organs)
Electrocardiograms
On campus consultations from veterinary specialists in radiology, dermatology, orthopedics, and more
Physical rehabilitation
We are very proud that Guide Dogs for the Blind is the first guide dog school in North America to acquire Fear Free certification for our entire veterinary staff. The Fear Free certification is recognized as the standard of skills and professionalism needed to understand, recognize, and alleviate fear and accompanying stress on dogs in the course of their care. This holistic and transformative approach creates an experience that is more enjoyable and safer for all involved, including our dogs, clients, volunteers, and staff. Our clinics are also accredited by the American Animal Hospital Association (AAHA).
Financial Assistance
Are you a GDB client looking for info and instructions regarding our Veterinary Financial Assistance (VFA) program?