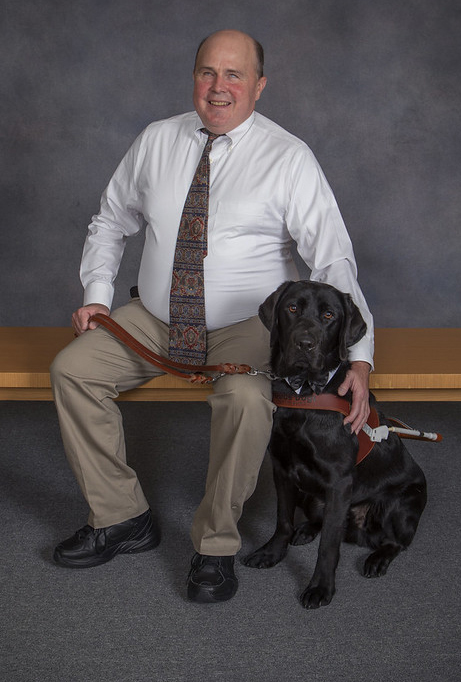 Pete Berg and Lloyd
Illinois
Pete began as ADA Coordinator for the University of Illinois Chicago in April of 2022. In this role he manages the University's employee accommodation process, advises on physical and information technology requirements, and provides consultation to units/departments, students, faculty, and visitors on UIC's obligations under the Americans with Disabilities Act (ADA). Prior to becoming the University's ADA Coordinator, Pete spent the previous 21 and ½ years working for the federally funded ADA Center housed at UIC.
Pete joined the GDB Alumni Board in July of 2022. He lives in Naperville, IL with his first guide dog, Lloyd, a black Labrador.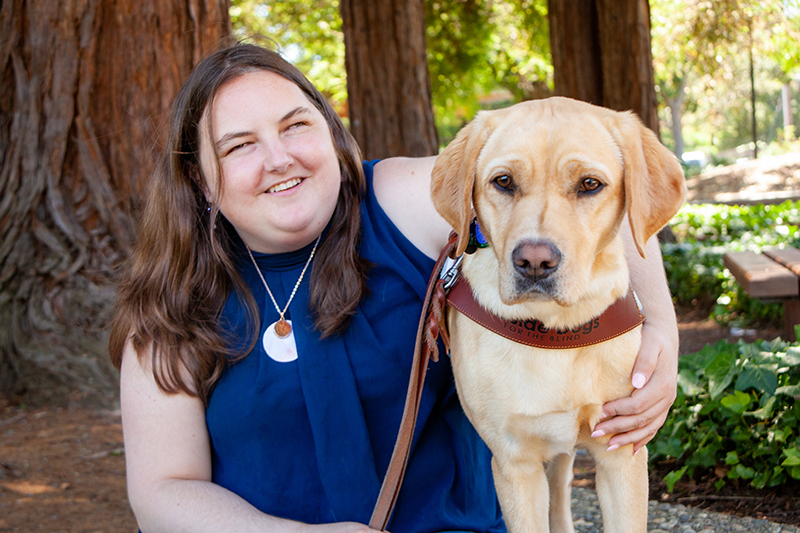 Claire Stanley and Tulane
Maryland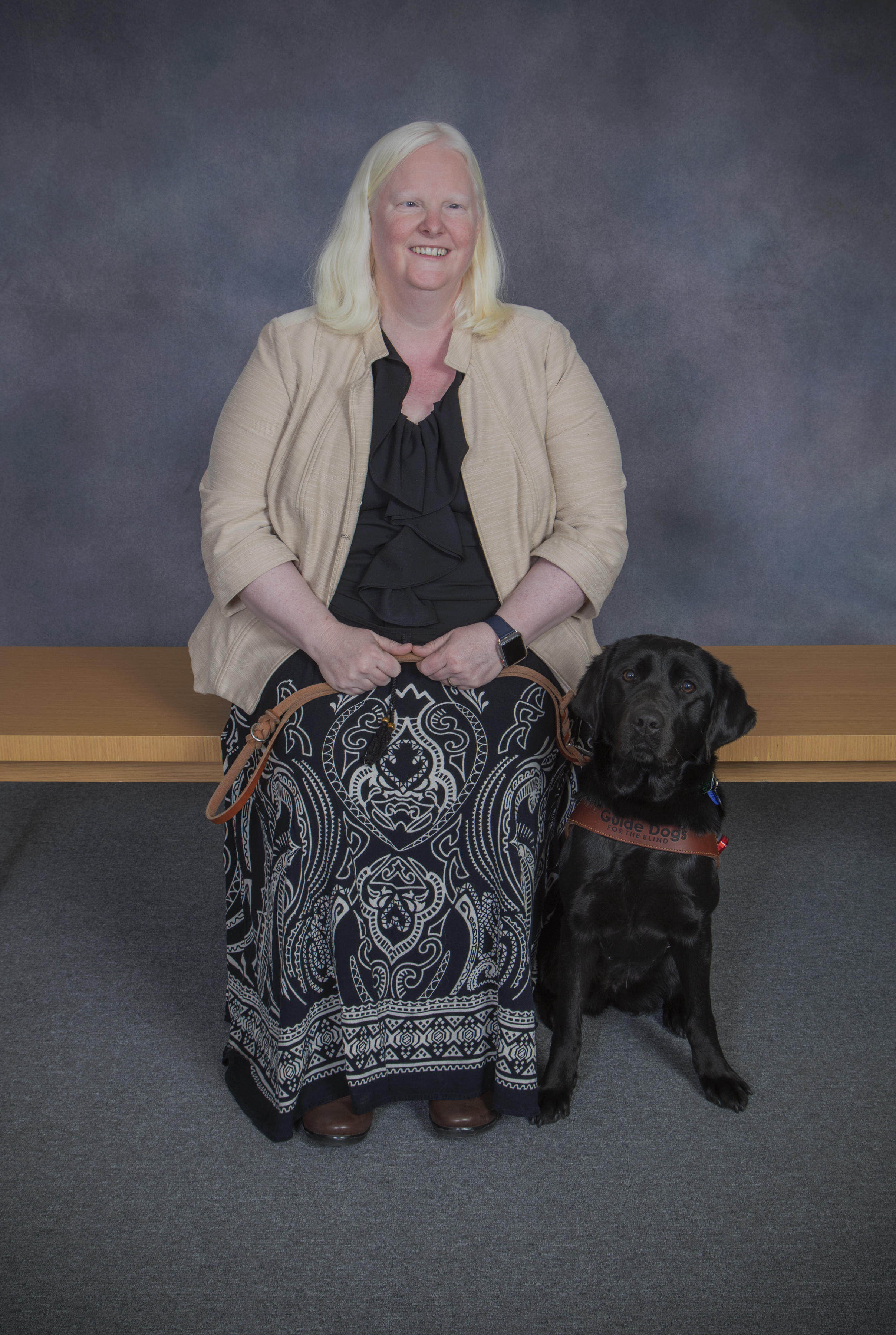 Leigh Moss and Aviva
Texas
Leigh currently lives in Austin,Texas. After many years as a teacher and an administrator of a charter school which she co-founded, Leigh found she is best suited to the atmosphere and opportunities of a smaller school community. This led her to her current position as the administrator of a small preschool.
She has her first guide, Aviva, as a direct result of watching the movie "Pick of the Litter" on the recommendation of a friend. Watching the teamwork depicted in the movie helped Leigh think more positively about the challenges she faced as an individual whose vision was gradually decreasing. She realized that she would be more safe and also more comfortable being partnered with a guide dog.
Leigh enjoys the outdoors and has spent many summers camping in North Carolina with her family. She is interested in starting a GDB book club as an alumni chapter. She is also hoping to learn pottery soon.
Members at Large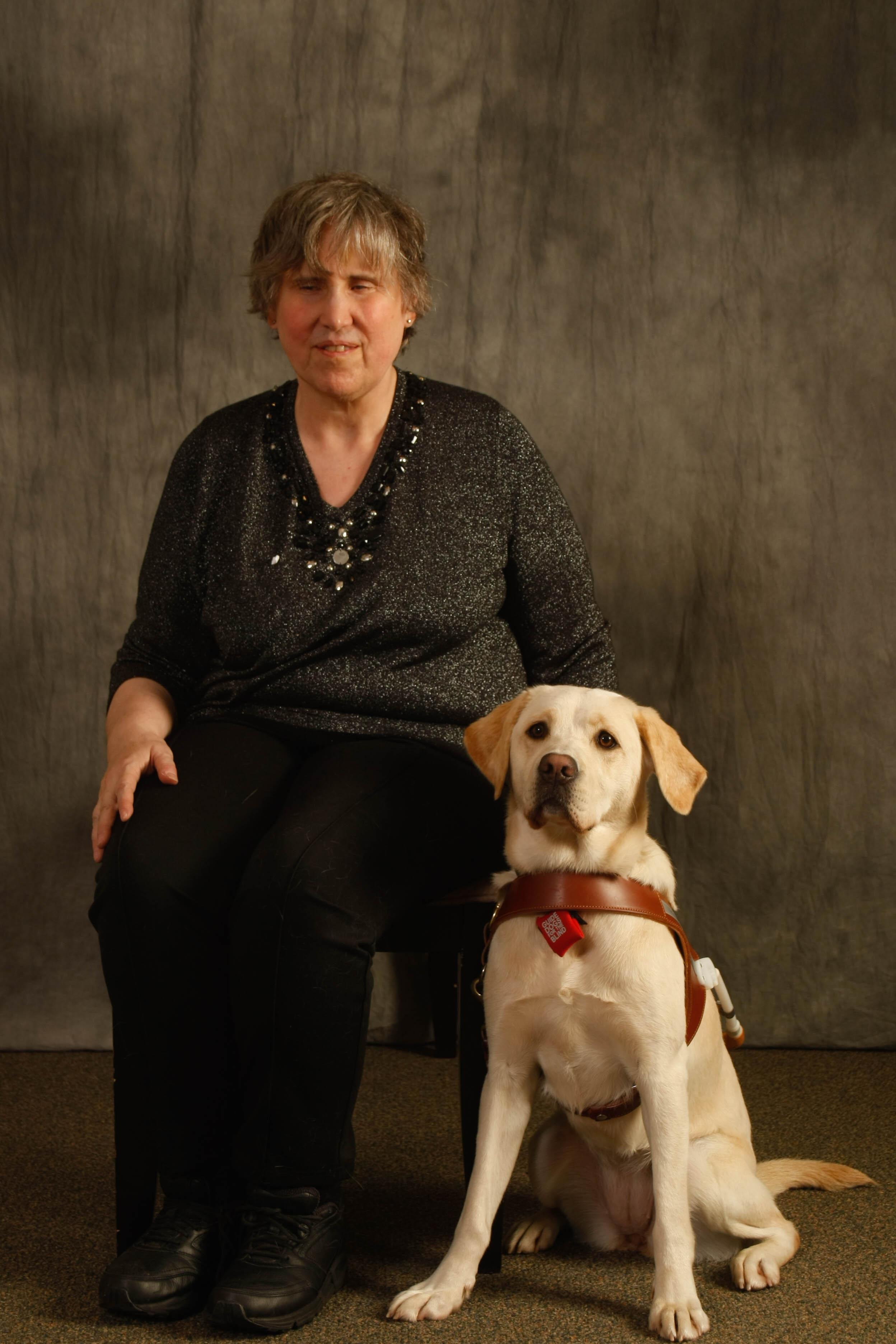 Deborah Cook and Praline
Washington
Throughout her working life, Deb has served the Blind and Visually Impaired. From direct training and services to technology and accessibility needs, Deb has worked tirelessly to help people with visual and hearing impairments improve their lives through access and independence.
Deb's mission has always been to serve. Throughout her adult life, she has volunteered and been active in state and federal organizations and agencies that serve the Blind and Visually Impaired. Over 37 years, Deb has taken on the roles of Rehabilitation Teacher, Vocational Rehabilitation Counselor, Civil Rights advocate, It and assistive technology administrator.
One of Deb's motivations to serve on the Alumni Board is to improve the availability of Guide Dogs for our aging population of GDB teams.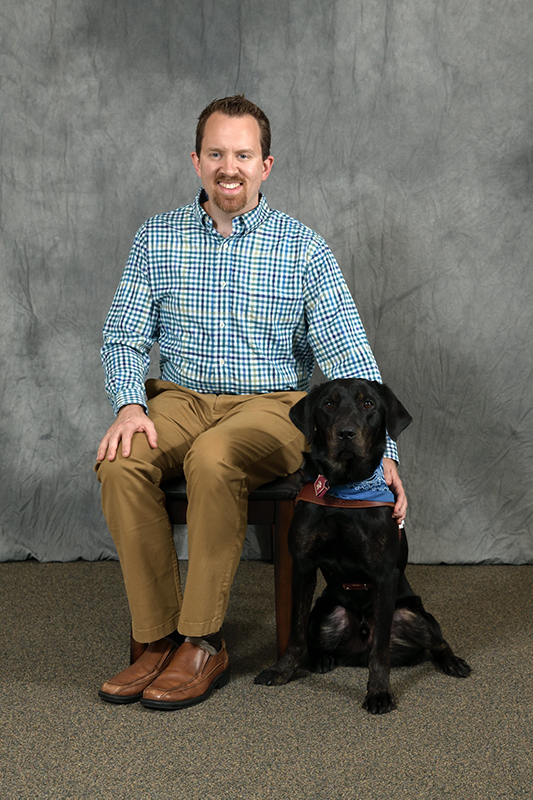 Derek Daniel and Koa
Indiana
Born and raised as a Hoosier, Derek resides in Indiana with his wife and two kids. He is currently paired with his second guide dog named Koa, a black Labrador Retriever.
Derek has been in full time ministry for over 20 years, serving in various roles. He currently works as a worship minister and pastoral counselor at a local church. He also has a background in performing arts. He displayed his talents in high school, college, and community theater as well as working for several years as an entertainer at a theme park, singing and dancing in the live shows each day.
Derek combines his gifts of encouragement and entertainment to help others deal with physical sight loss on his Youtube channel known as "Life After Sight Loss". He is dedicated to helping others know they are not alone and supporting them on their journey.
Derek is a self proclaimed "geek" and enjoys things such as Star Wars, movies, music and more!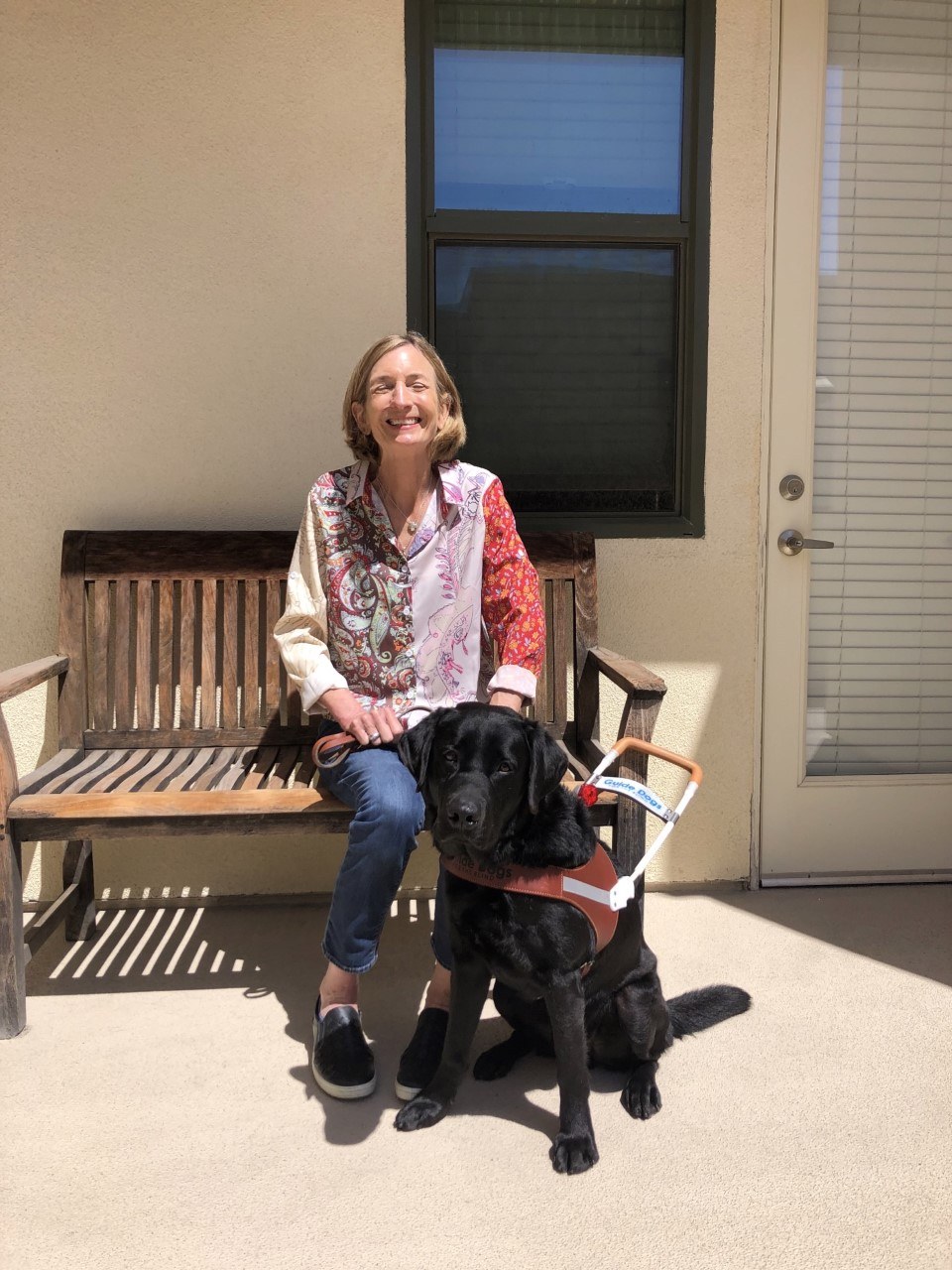 Kelly Egan and Caspian
California
Over the course of her career, Kelly has designed and directed B2B / B2C sales, marketing, and recruiting campaigns, to drive rapid and sustainable growth. She worked to build and lead cross-functional teams and performance initiatives, maximizing productivity and increasing market share for Be My Eyes, Sprint Accessibility, HirePotential, Inc., The Novo Group, Alternative Resources Corporation, and more.
Kelly and Caspian live and work in San Diego, CA.
Maia Scott and Gleam
California
Maia has been happily partnered with four different guides, each helping her find the way through adventures on foot and in spirit. Maia's fourth Guide Dog, Gleam, works closely by her side.
Maia has a Master's in Fine Arts and interdisciplinary arts. She works as an arts educator, and recreational therapist for children with disabilities. She also works as a bodyworker, college accessible arts instructor, and interdisciplinary artist. Throughout her work and daily life, Maia is committed to social justice, civil rights, equity, and access to creativity.

She combines physical, mental, and social dynamics through her workshops, community events, books, public speaking, and private work. Maia brings a creative spirit, quirky sensibility, love of words, and the desire to push the boundaries of "possible" to the Alumni Association.
Melba Velez-Ortiz and Chad
Michigan
Melba's professional work is rooted in the intersection of culture, disability, communication, and ethics. She holds her doctorate in communication ethics and is a Professor of Communications in the Frederick Meijer Honors College at Grand Valley State University, Michigan.
A bold and vocal communicator, Melba has created programs surrounding communication and culture, authored books, published articles in peer-reviewed journals, and presented papers at conferences in her field. She steps outside the boundaries to bring philosophy, dialogic inquiry, culture, and ethics across all departments at her university.
Melba is a fierce advocate for the LatinX community, Disability, and other marginalized communities and cultures. She identifies herself as "A person who opens doors" for others who work hard to achieve their goals. The enthusiasm she brings to her field and to conversations is uplifting and exciting. You can just about see her, over the phone, jumping up and down.
Driven by a philosophy developed by José Vasconcelos called "Happy Pessimism," Melba accepts her blindness. She doesn't "look" at the world through rose-colored glasses, but works hard to promote inclusion and equity in the academy and beyond despite being aware of the challenges ahead. For example, an important part of her advocacy work requires facing one's individual fears, including her own. Case in point, Melba was afraid of dogs her entire life. Now, she is working with her first guide dog, Chad, a yellow lab - an experience that has changed her life.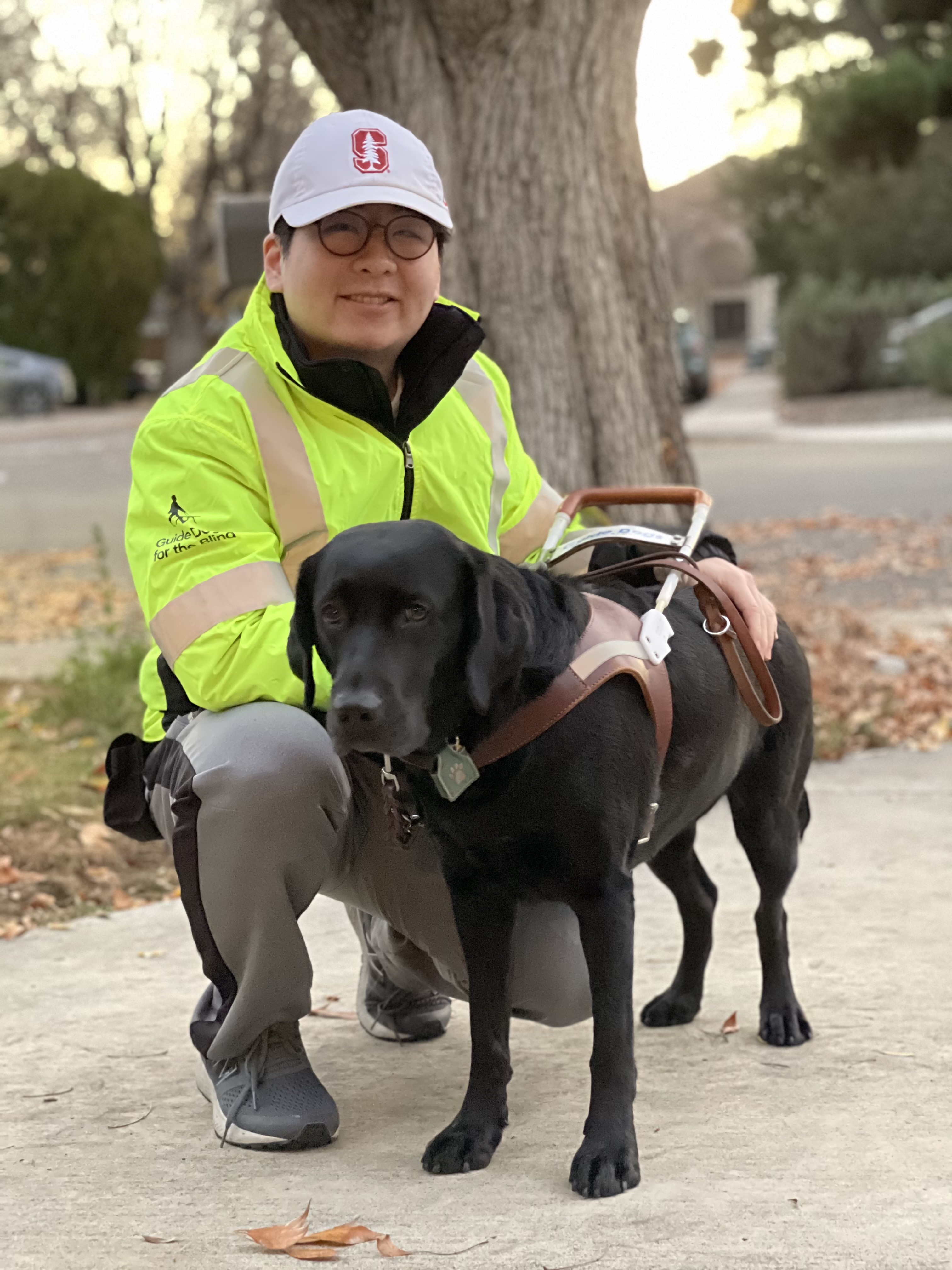 Chris Yoon and Sadie
Washington
Chris Yoon works as a Program Manager for Microsoft and lives in Bellevue WA. He is partnered with his first dog Sadie. Chris readily admits that one of Sadie's "other duties as assigned" is to make sure he meets lots of people. And she of course has taken this assignment seriously. Chris was partnered with Sadie during his last year of graduate school at Stanford where he studied both computer science and music. His musical passion is theater production and conducting, but his work at Microsoft has kept him away from the music scene.
In whatever spare time Chris has, he works with a non-profit called TeachAccess that brings together industry, academia, and advocacy groups to address the educational gap in accessibility, helping students create a world where technology is born accessible.