Guide Dogs for the Blind 101
A webinar to explore GDB's client programs.
Are you interested in learning more about Guide Dogs for the Blind's client programs, but aren't quite sure where to start? Join us for a FREE informative webinar to learn all about the following GDB offerings:
These 90-minute webinars are intended for individuals who are blind or visually impaired (including family members/friends), and blindness professionals interested in learning about guide dog mobility.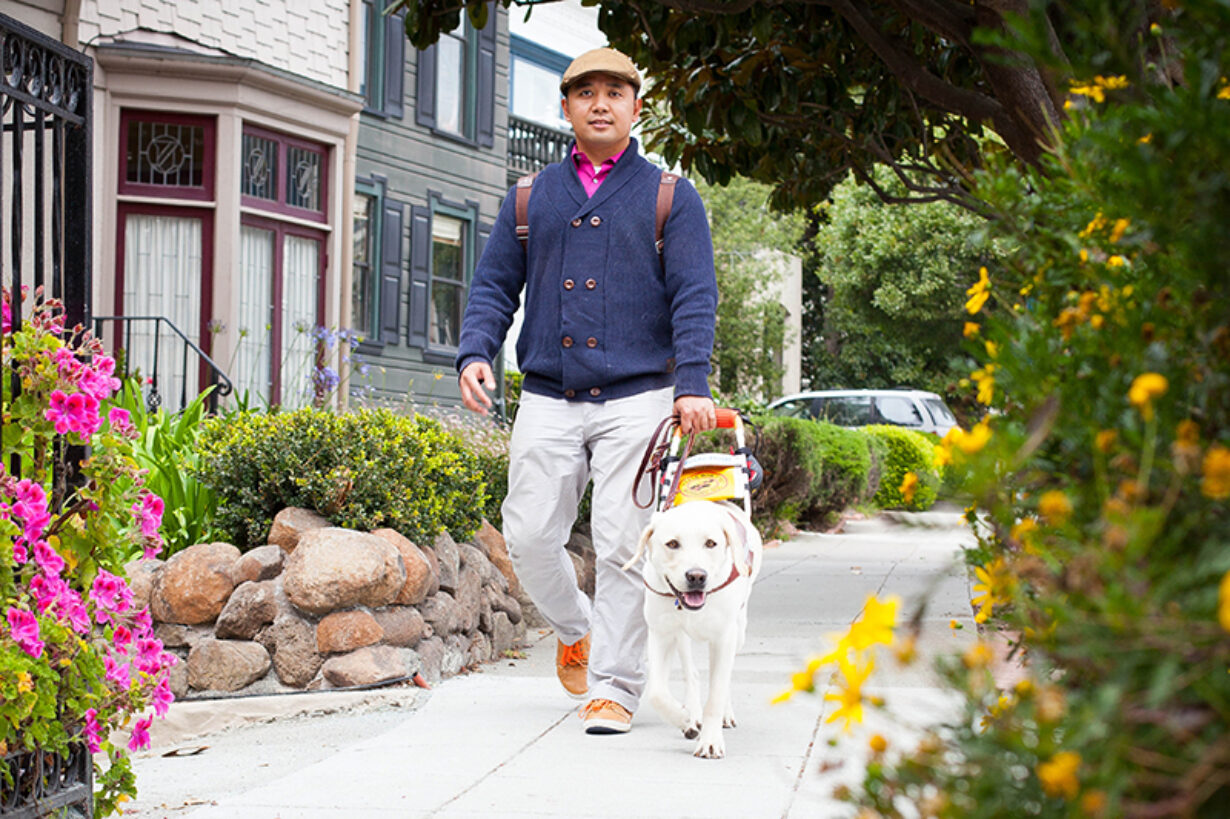 Upcoming Guide Dogs for the Blind 101 Webinar Dates
2023
All sessions are held from 10:00-11:30 a.m. Pacific time.

January 18th 10:00 – 11:30 a.m.
April 28th 10:00 – 11:30 a.m.
September 14th 10:00 – 11:30 a.m.
December 12th 10:00 – 11:30 a.m.
How to Register for Guide Dogs for the Blind 101
Registration Required. RSVP to the Guide Dogs for the Blind 101 webinar by emailing Jake Koch at: [email protected]
Be sure to include the session date that you would like to attend in your emailed RSVP.
Guide Dogs for the Blind 101 is held via the Zoom platform. A Zoom link/call-in details will be provided a couple of days prior to the event to all registered participants.
Questions? Get in touch via the email address above, or by calling 800.295.4050.
Jake Koch
Jake's role at Guide Dogs for the Blind includes facilitating educational opportunities about the guide dog lifestyle to people who are blind or visually impaired and blindness professionals. He also consults with agencies and businesses about accessibility best-practices for people who are blind or visually impaired and supports corporate and service organization giving/philanthropy efforts for Guide Dogs for the Blind.
In addition to Jake's work with Guide Dogs for the Blind, he serves on the Disability Advisory Board with Alaska Airlines. This interdisciplinary board of experts is tasked with providing airline executives and staff with current best practices for serving travelers with disabilities.
Jake graduated with honors from Eastern Washington University, where he majored in Public Relations and minored in Journalism and Organizational Leadership.
In his free time, he enjoys traveling, stand-up paddleboarding, hiking, playing musical instruments (drums and ukulele), and spending time with family and friends.
Jane Flower
Jane Flower worked with older adults in the field of low-vision for over 12 years before taking her position at Guide Dogs for the Blind in 2013. Her previous role as Program Supervisor with Dayle McIntosh Center's Aging with Vision Loss Program in Southern California afforded her the opportunity to share her personal and professional knowledge on such topics as Daily Living Skills, Assistive Technology, Braille Reading and Writing, and Self-Advocacy Training. Jane was born legally blind, and at the age of 8 was diagnosed with a retinal degenerative eye disease called Leber's Congenital Amaurosis (LCA). Because of her personal life experience with vision loss, she was also able to provide peer support to the older adults she assisted.
Jane received her current and third Guide Dog Pilaf in November of 2017. In her current role as Youth Outreach Specialist, she and pilaf travel throughout the U.S. and Canada sharing the mission and vision of Guide Dogs for the Blind to perspective clients and their families, and professionals in the field of blindness and low vision. Outside of work, Jane and her husband Wayne live with her retired guide dog Anya, their pet dog KC, and of course little Pilaf. They love to travel, hike, go for long walks with their dogs, camping, and spend time with friends and family.