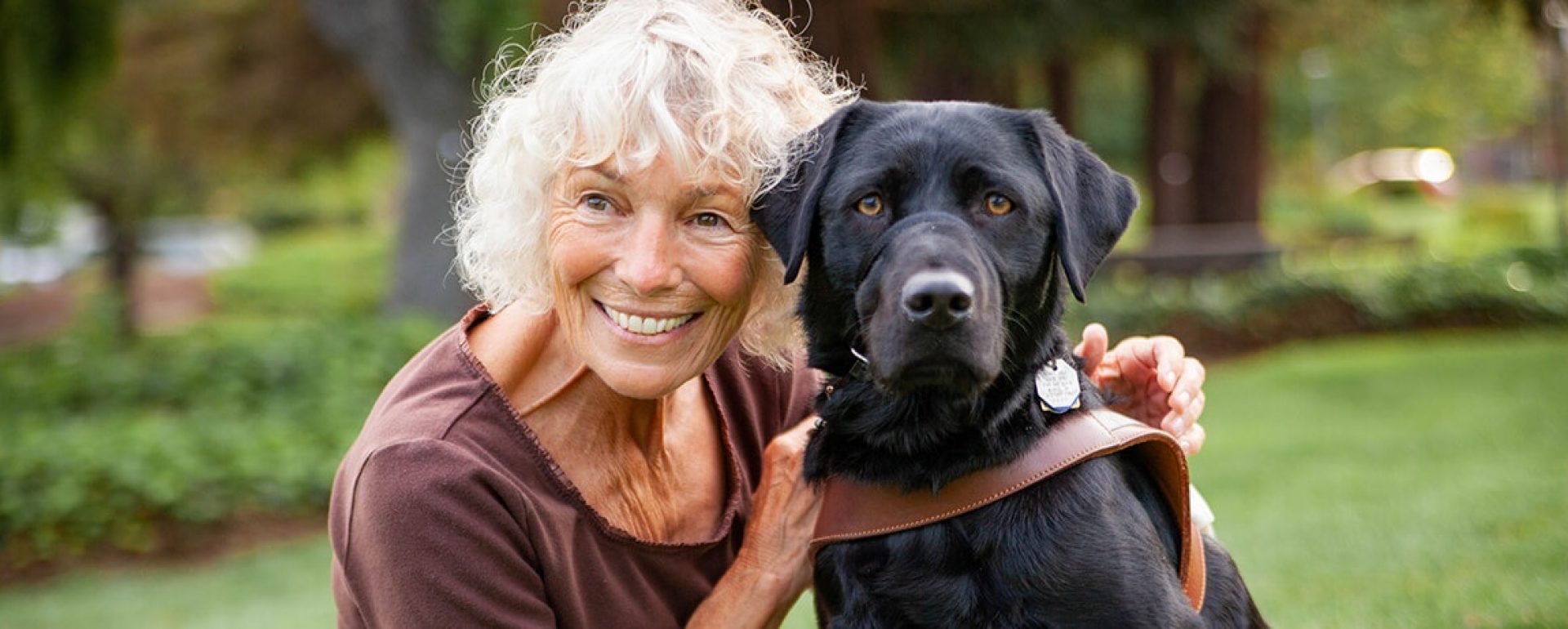 Applying for a Guide Dog
Learn about the application process.
When you apply to get a guide dog from GDB, you're taking a big step. Throughout the application process, we'll have a chance to learn more about you: your goals, desires, and lifestyle. We'll help you understand your responsibilities in preparing for class training and in handling and caring for a guide dog. Upon acceptance, our professional staff will work with you to develop a course of training that is most relevant to your needs. We're here every step of the application process to help, so please feel free to reach out should you have any questions or concerns.
Steps in the Guide Dog Application Process
1. Submit Your Application
You have three options for applying:

Print a copy and mail it back to us by downloading the application from the link below.
Request a paper copy or complete the application over the phone by calling 800.295.4050.
2. Phone Consultation
We will schedule a phone consultation with you after we receive and review your application. This discussion can take about an hour. During the phone consultation, we'll discuss:

How you travel independently to the destinations listed on your application.
Your motivation and support for getting a guide dog.
Your lifestyle and travel practices.
Your health status.
You will also have the opportunity to ask questions about GDB's program. By the end of the conversation you will have an idea of what supplemental forms are required and how to go about gathering the information necessary to complete the them.
3: Additional Forms

Physician's Report: to be completed by your primary health care physician including a tuberculosis test or chest x-ray.
Ophthalmologist's Report (required for all first-time applicants).
Orientation and Mobility Professional's Report (required if you have received orientation & mobility training in the past five years).
Mental Health Report (required if you currently see a psychiatrist, psychologist, or other licensed counselor).
These forms and documents are available for download below.

Note: If you have experience with other guide dog schools, GDB will likely contact them for additional information.
4. Home Visit
We will schedule a home visit with you once your phone consultation has been completed. During the home visit the interviewer will assess:
Your ability to travel independently on a familiar route using your current mobility aid. This route must include street crossings.
Your physical ability to work with a guide dog.
The safety of your home and work environments.
Your ability and willingness to learn and apply techniques for working and caring for a guide dog.
Any additional factors that would contribute to selecting the best dog for you.
5. Approval Notification
When your home visit has been completed and all supplemental forms have been received, we will notify you if your application has been approved.
6. Class Scheduling
Upon acceptance, we will contact you to schedule a class date and campus location. An acceptance package and course materials will be sent to you by mail. Click here to learn more about our class training program and what campus life is like while you are here.

7. Class Begins
You arrive for class ready to meet your new canine partner and begin an exciting educational experience!
Important Documents and Forms (Please note: these downloads work best in web browsers other than Internet Explorer.)