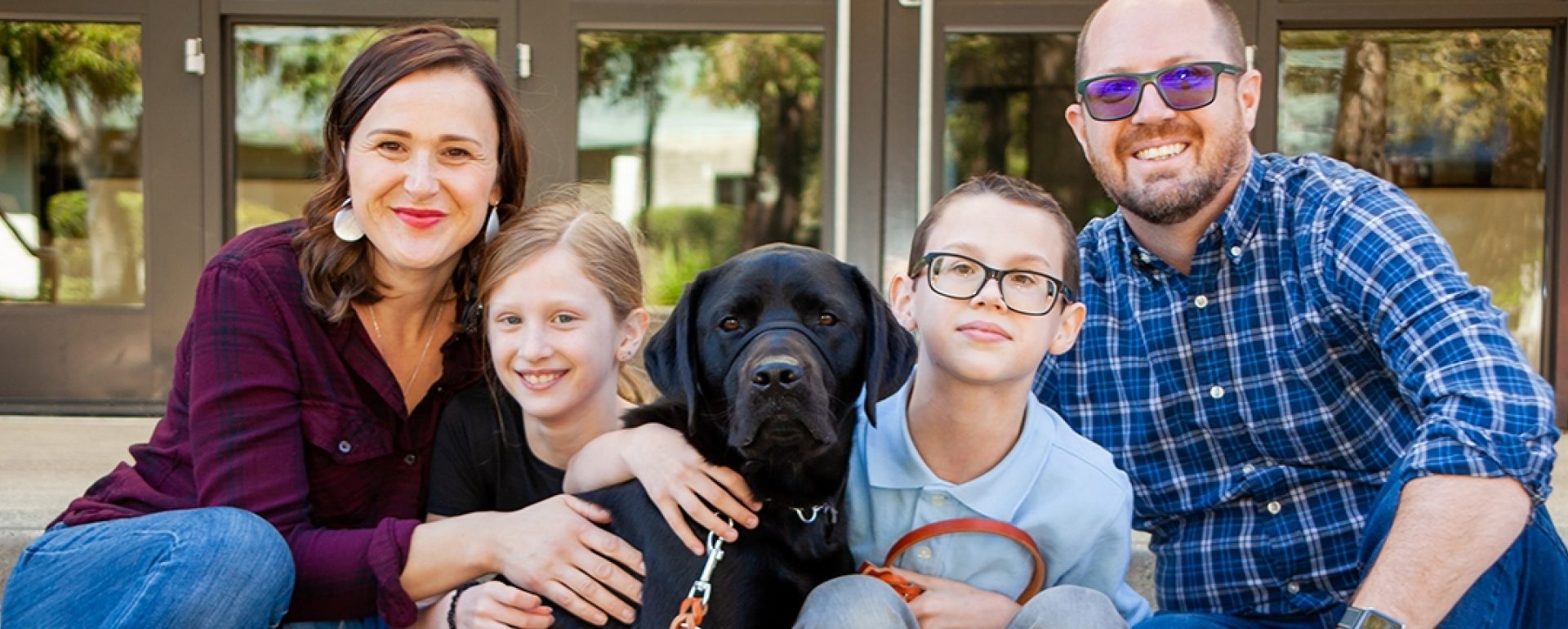 We are excited to once again unleash our "Ready, Set, FORWARD" workshop series for parents, youth, and professionals in the field of low vision!
When making the very personal decision to use a cane or a guide dog for ones primary mobility aid, many factors need to be considered. Choosing the Guide Dog lifestyle comes not only with enhanced mobility and self-confidence, companionship, increased and changed social interactions, but also comes added time and responsibility of daily care for your guide dog and a two-week commitment away from home for training with a guide dog
We are committed to assisting blind and visually impaired youth and the community that supports them be as well informed and prepared as possible to make that important decision to cane or canine when the time is right.
So come and join us, we have something for everyone!
Has your child expressed an interest in using a guide dog for their mobility, or are you wanting to educate yourself so that you can better help guide your child as their independence increases? Then you don't want to miss this informative workshop where we will talk about what it means to be ready for a guide dog, the important role independent living skills (ILS) play in guide dog readiness, what are some practical tools you can use to help prepare them if this is the path they choose, and the critical role your child's Orientation & Mobility (O&M) skills play in guide dog readiness. You will learn about GDB's K9 Buddy program for families with children who are blind or visually impaired and may not be quite ready for a guide dog, and we will share some insight about your child's Independent Education Plan (IEP) and goals around their O&M skills training in regards to guide dog travel.
Open to parents and family members of youth who are blind or visually impaired
Date: Wednesday, March 2, 2022
Time: 3:00 – 4:30 pm PST
Location: Zoom

Please join GDB's orientation and mobility team as they share with you how to assess your student's readiness for guide dog travel. They will also share some tips and best practices that you can use in your O&M lessons around sensory and environmental awareness, human guide, and experiencing freedom of movement all to help better prepare your student for living and working with a guide dog.
Open to professionals in the field of blindness and visual impairment
Date: Thursday March 3, 2022
Time: 3:00 – 4:30 pm PST
Location: Zoom

Are you blind or visually impaired, between the ages of 14 and 24, and interested in exploring the option of using a guide dog for mobility? Come and be a part of our "Ruff Life Academy"! We will explore how to interact and communicate with dogs, and how they communicate with us. We will do a little myth busting about guide dogs—can they really tell us when it is time to cross the street? We'll cover how to determine if you are ready to welcome a guide dog into your life and how they might fit into your everyday routine, and why those O&M and ILS skills are so important to be successful with a guide dog. We will also explore your home environment and talk about the care and responsibility that comes with having a dog in the house. We'll discuss the importance of self-advocacy whether you are a cane or guide dog user. And we will also explore of a variety of training options for when you are ready; what training with a guide dog is like; and the transition home with your new partner!
---
Open to young adults who are blind or visually impaired, ages 14-24


Date(s): March 21-25, 2022
Time: 3:00 – 5:00 pm PST each day
Location: Zoom


We are excited to bring together a group of GDB alumni who all received their very first guide dog at a young age. Come and hear from them about their experiences, successes, challenges, and words of wisdom for anyone who is considering the guide dog lifestyle while in high school or college. Parents and family members, O&M and TVI professionals - are all welcome!

Date: Monday, March 28, 2022
Time: 3:00 – 4:30 pm PST
Location: Zoom