We are so excited to introduce you to guide dog puppy BettyRose. BettyRose is a Lab/Golden Retriever cross, and was named in honor of beloved actress, Betty White.
"BettyRose's name is a tribute to Betty White, and the iconic character that Betty played on Golden Girls, Rose Nylund," said GDB's President and CEO Chris Benninger. The idea to honor Betty White's legacy by naming a GDB puppy came to be when Betty passed away last December at 99 years old. She was a dear friend, dedicated supporter, and ambassador for Guide Dogs for the Blind for more than 30 years. "We are forever grateful for her many contributions to our life-changing mission," Chris said.
BettyRose will spend roughly the next year being cared for and nurtured by longtime GDB puppy raiser and puppy club leader Nora Salet and her family in Vacaville, California.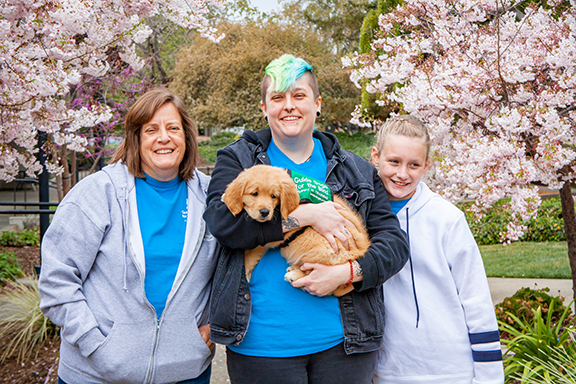 "We're very excited to be raising her as Betty White's namesake," Nora said. "We hope to teach her and work with her to learn all about her environment. Take her to work and school, and raise her to be the best she can be. Teach her house manners, and all about her new world."
We can't wait to see what adventures BettyRose has in store. And if she's anything like her namesake, she's a star in the making! In fact, at 10 weeks old, BettyRose has already had plenty of screen time. She was introduced to the world in various San Francisco Bay Area media outlets, including the local ABC and CBS news affiliates, when Nora and her family came to our California Campus to meet BettyRose and take her home for the next phase in her GDB journey.

In addition, BettyRose was also featured in a story in the San Rafael Patch.

Happy trails, BettyRose - your fan club is cheering you on!