As the familiar saying goes, "Be the change you want to see in the world." GDB client Yolanda Avila embodies that phrase with her whole being. She serves as an elected city council member in Colorado Springs, Colo., where she works tirelessly on behalf of her community, and advocates for changes that will make her city a more vibrant and equitable place to live and visit. Her Golden Retriever guide dog, Puma, is by her side in this work, and even holds the title of "Canine Council Member."
Yolanda's foray into public service started many years ago, albeit in a circuitous way. Although she grew up in Colorado Springs, she spent the majority of her career as a criminal defense investigator in Orange County, Calif. It was while she was living in California that she was diagnosed with Retinitis Pigmentosa (RP) and started to lose her vision. She eventually retired and returned to her hometown, where she found that the city's infrastructure and resources were lacking in areas critical to her personal safety and mobility.
"When I moved back," Yolanda said, "about a third of the city lights were out, and the buses only operated Monday through Friday, and stopped running at 5:30 pm." As someone who relied on public transportation or pedestrian travel at all hours of the day, Yolanda started attending city council meetings to advocate for change. It wasn't long before she was invited to join committees and get more involved in a tangible way. Within two years of her grass-roots efforts, the buses were running seven days a week, and later into the evenings.
It was then that she decided to run for city council. "I saw that the needs were so great in my district," she said. "It lagged in every way - it was a food desert, there was no investment in infrastructure or economic development, our parks were sad and neglected. I wanted to see to it that my district was getting our fair share of the money for roads, sidewalks, bridges, and more."
She was elected to the city council in 2017 and reelected to her second term in 2021. "I've been nonstop - I've been so vocal," Yolanda said. She continues to champion transit and accessible infrastructure but has also taken the lead on urban renewal projects and this past August celebrated the opening of a new 13-acre park that has become a true destination.
"I'm really proud of it!" she said. "When I first ran for council, there seemed to be no trust that when an elected official said something, that they would ever follow through. It has been so fulfilling to see the trust that has developed, because I have delivered on promises, as have the mayor and other members of council. That trust has enabled me to work with community members, hear their stories, and have great things happen. I may be blind, but I do have a clear vision for what I want to accomplish!"
Yolanda has been appropriately recognized for her work and has garnered awards far and wide. Most recently, she received the Mujer Valiente women's leadership award from Fiestas Patrias Colorado Springs and Latina Equity Foundation.
"I'm at the intersection of being Mexican American, a woman, and blind. I am really grateful for all the opportunities I have been given," she said. "I do think it's important that people know, especially women because we're so underrepresented, you can do it no matter what your situation is. When you are authentic and carry forward as your true self, you can do anything."
As for her guide, Puma, he's famous around town as well. "He is a little celebrity; the city is his territory!" Yolanda said. "Puma is my companion, my family, my everything. It's freeing to walk with him and be able to go at a pace that matches me. I've met so many cool people thanks to GDB, and with having a guide dog, it also makes you feel like you belong - it creates that sense of belonging in the community." In her work, Yolanda said that Puma is a wonderful partner who is not only universally loved but helps to facilitate difficult conversations or navigate contentious situations because "he just lowers the temperature," she said.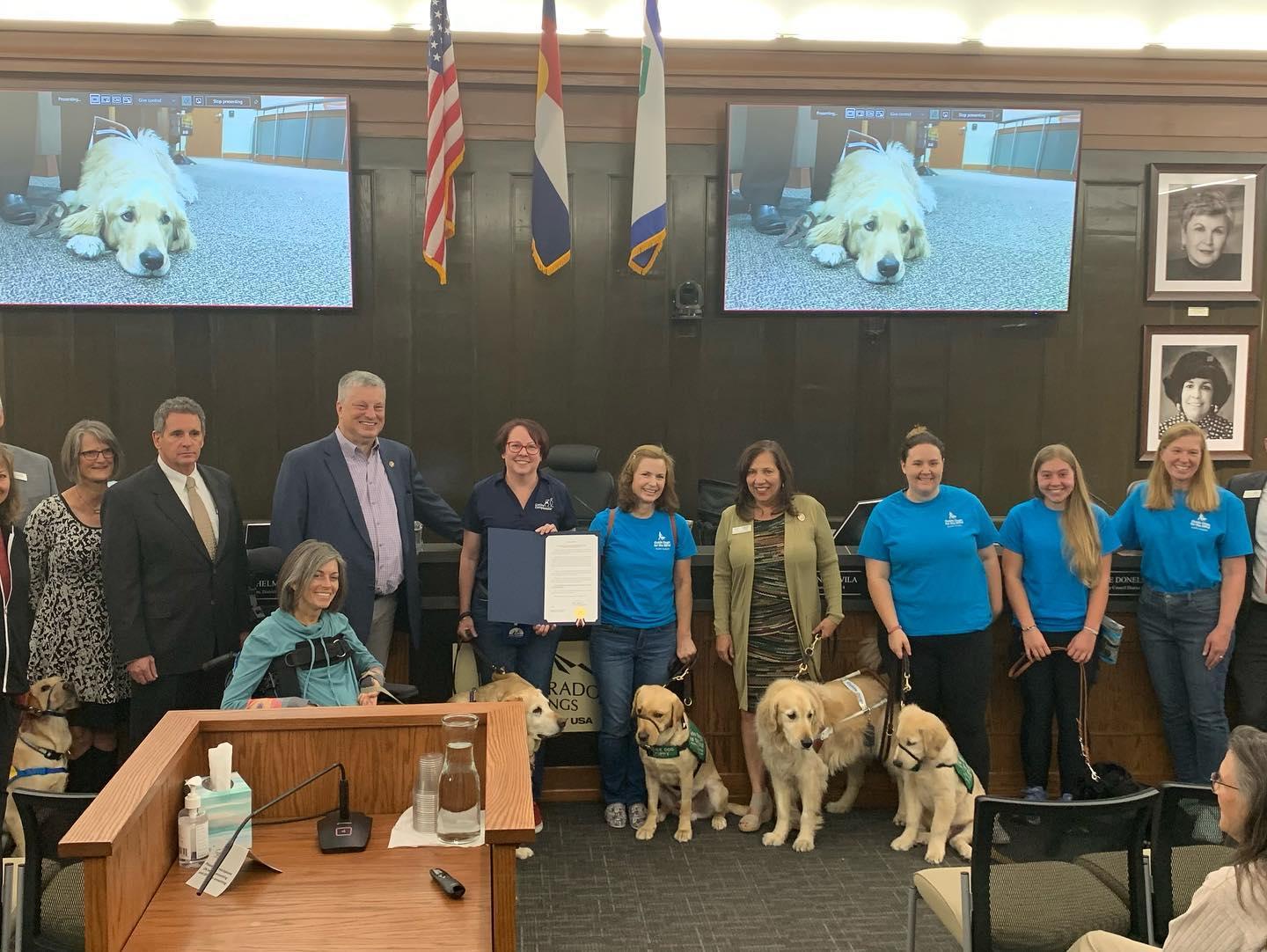 In recognition of National Service Dog Month held in September, Yolanda sponsored a resolution to mark the occasion in Colorado Springs. The resolution was presented at a city council meeting, and four local GDB puppy raisers, Holly Niewinski, Erica Fraser, and Katie and Dawn Szarke, were on hand to participate with the pups that they are raising. Puma, of course, served as the unofficial resolution co-sponsor and official working dog ambassador.

Congratulations Yolanda and Puma for the important work you are doing in Colorado Springs. Happy trails as you continue to build bridges - literal and otherwise - in the community!