Serendipity frequents our Guide Dogs for the Blind (GDB) community more than one might imagine. This magic happened to Legacy Society members Bill and Joan Truncali of Portland, Oregon and guide dog alum, Bill Faulkner of Calgary, Alberta in the summer of 2009. The Truncalis were having dinner in Seattle with Theda, their beloved GDB career change and ambassador dog, when they were approached by Bill Faulkner, his wife Martha, and daughter Susan. The Faulkners were immediately taken by Theda and inquired about Guide Dogs for the Blind's services and Theda's prior training as a guide dog.
At that chance encounter, Susan confided to the Truncalis that Bill was struggling with his vision and might need a guide dog in the future. Without hesitation, the Truncallis gave her their contact information on the back of a restaurant card and urged her to call should she need more information about GDB's services.
Three years later, when Bill lost his eyesight, Susan reached out to the Truncalis using the number on the restaurant card they had given her. She still had it. They put the Faulkners in touch with staff at GDB's Oregon campus, and shortly thereafter, in early March 2012, Bill wrote to inform the Truncalis that he had been accepted into the training program. Poignantly, it was the same week Theda passed away while the Truncalis were living overseas. As Bill says, "Theda was well known for her pet therapy work, and this was her last good deed on earth. She was the catalyst that led the Faulkners to GDB's guide dog training program."
In June 2012, Bill graduated from GDB with his new partner, a beautiful yellow lab named Armstrong. Over the next few years, Bill and Armstrong crisscrossed Canada together and the Truncalis received updates about their adventures in frequent "Armstrong Reports". The Faulkners and Truncalis had a joyous gathering in Portland in 2019 while Bill and Martha were in town attending a GDB alumni reunion. At dinner, the Faulkners presented the restaurant card to Bill that he had given them all those years ago. The couples remain in close contact to this day.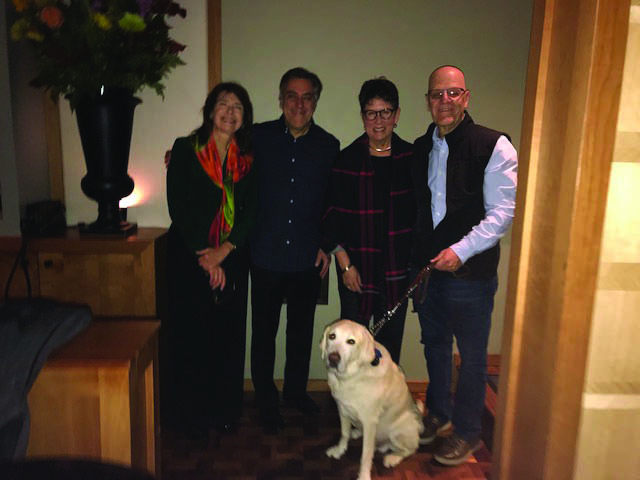 For Bill, his new partnership with Armstrong has been life-changing. "I will be forever grateful to the Truncalis and Theda for that serendipitous meeting that summer evening in 2019." GDB is grateful as well for the chance encounter that brought these two amazing couples into the guide dog community. And special thanks to the Truncalis for being proud members of GDB's Legacy Society, which honors individuals who have named GDB in their estate plans to ensure more magic happens for years to come.
Visit our Estate Planning website.