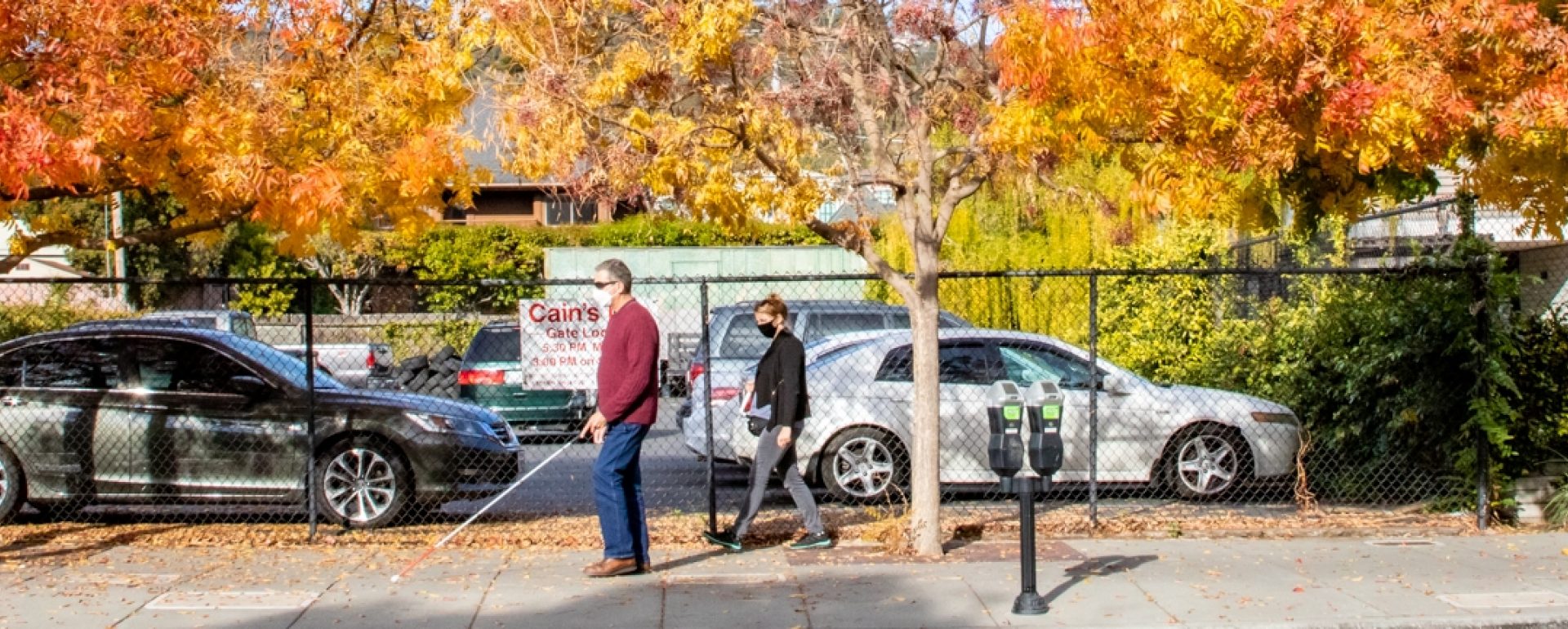 Information for Orientation and Mobility Specialists
Partners for Independent Travel
At GDB we are proud to partner with orientation and mobility (O&M) specialists. Your services are an essential part of preparing individuals who are visually impaired to be successfully partnered with a guide dog. We thank you for serving as our ambassadors, and for providing the critical skills that create the foundation for the enhanced independence, mobility, and freedom that go along with the guide dog lifestyle.
Is Your Client Ready?
To determine if a client would be good candidate to travel with a guide dog, please visit our O&M Client Readiness page to learn what traits and skills a person should possess in order to be successful. Typically, candidates must demonstrate the following:

Safe, independent travel to purposeful destinations
A genuine need for a guide dog to enhance independent travel; the desire to have the companionship of a guide dog, and the ability to care for a dog
A safe and supportive home environment
If your client is ready, the next step is for them to complete our Application. The application captures their basic information and asks for details of three of their established independent travel routes.

Once an application is received, our Admissions Department will schedule a phone interview to gather other pertinent details. If the candidate seems ready to commence training with a guide dog in our program, the next step will be to schedule a home visit and interview.
By the time a home visit is scheduled with your client, we would expect him/her to have finished orientation and mobility instruction and be a proficient traveler within his/her community and or work place. Although we request each applicant have a minimum of three established routes, we will only observe one route during the home visit. Typically, the applicant will be observed walking in one direction to a specific destination. The return route is a "Juno" walk/demonstration. (Juno is our term for a simulated walk with a guide dog - the candidate will be holding the handle of an empty guide dog harness and be led by the interviewer. Dogs are not used during the interview.) Basic guidework principles are introduced during this Juno walk. After basic instruction, your client will be evaluated on his/her ability to grasp and apply Juno concepts.
Following the home visit, your client will be notified regarding the next steps in their admissions process. Next steps may include confirming a class date or your client may be asked to work on some specific techniques and then reconnect with us once these are mastered.
Guide Dogs for the Blind offers free O&M Seminars both on our California campus in San Rafael, as well as at various agencies throughout the U.S. and Canada, to teach O&M specialists how to help prepare your clients for the guide dog lifestyle. GDB's O&M Seminar meets the high standards set by the Academy for Certification of Vision Rehabilitation and Education Professionals (ACVREP); upon completion, participants are eligible to receive 13 CE hours. O&M seminars are limited to 12 participants due to the hands-on nature of the training.
Who Should Apply

University trained O&M specialists with over 12 months of experience.
O&M specialists who have never attended a GDB O&M seminar.
O&M specialists who have previously attended a GDB O&M seminar prior to 2018.
What You Will Learn
Completion of our O&M Seminar will allow you to:

Educate clients who express an interest in working with a guide dog to the guide dog lifestyle, and in particular, the GDB class training program.
Prepare clients in the transition from cane to dog.
Assist clients in qualifying for the GDB program.
Assist clients in completing the GDB application process.
Assess clients' travel skills and other requirements for qualification for admission to GDB's program.
Provide orientation assistance to active GDB alumni in the field.
Seminar Schedule and Content
O&M seminars are two days in length; lunches are included. There is no fee to attend, but we do request that travel costs be met by the O&M specialist or their agency.

Upcoming Seminars

Date: October 11-12, 2023
Location: Washington DC
Department on Disability Services
Rehabilitation Services Administration, Sensory Unit
250 E Street SW Suite 1000
Washington DC 20024

Registration deadline: September 20th, 2023
For more information or to receive an application contact Stephanie Zabitz: Senior O&M Program Specialist [email protected] phone 800-295-4050 ext 2363