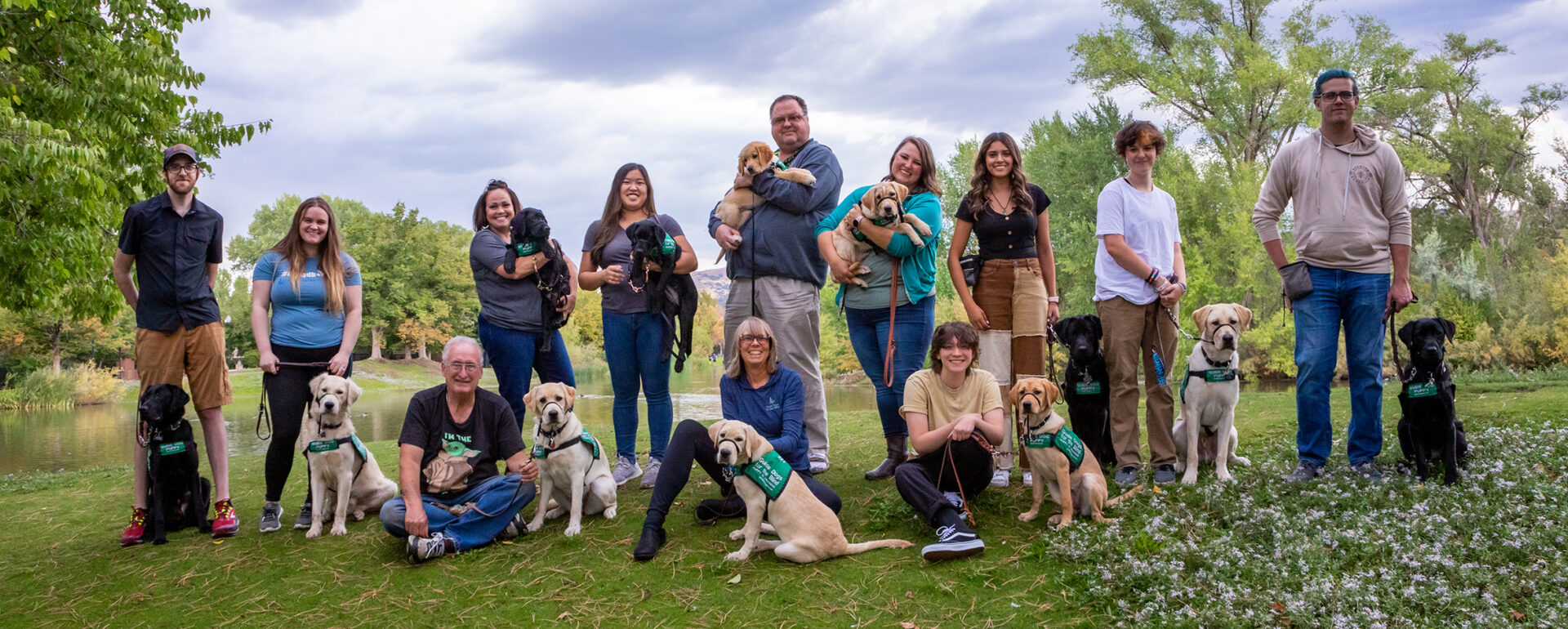 Puppy Raising
Raise a Puppy, Change a Life!
Are you inspired by Guide Dogs for the Blind's mission to help people who are blind or visually impaired gain greater independence, confidence, and inclusion? Are you looking for a fun and meaningful service project? Did you watch Pick of the Litter on Disney+ and want to learn more? Whatever your motivation, raising a guide dog puppy is a rewarding volunteer opportunity that can change many lives – including your own!
Join our next Hybrid Puppy Raising Project!
We are excited to offer another option for volunteers in the SF Bay Area who are interested in raising a guide dog puppy. Learn more about this project today!
You see a puppy, a person who is blind sees the world! Volunteer puppy raisers receive a pup when they are approximately 8 weeks old and will teach them house manners, provide socialization experiences, and prepare them for their future career as a guide dog, breeder, or K9 Buddy. Each pup will return to one of our two campuses for formal guidework training when they are approximately 15 months of age. Guide Dogs for the Blind (GDB) will support you throughout the entire puppy raising process, step by step!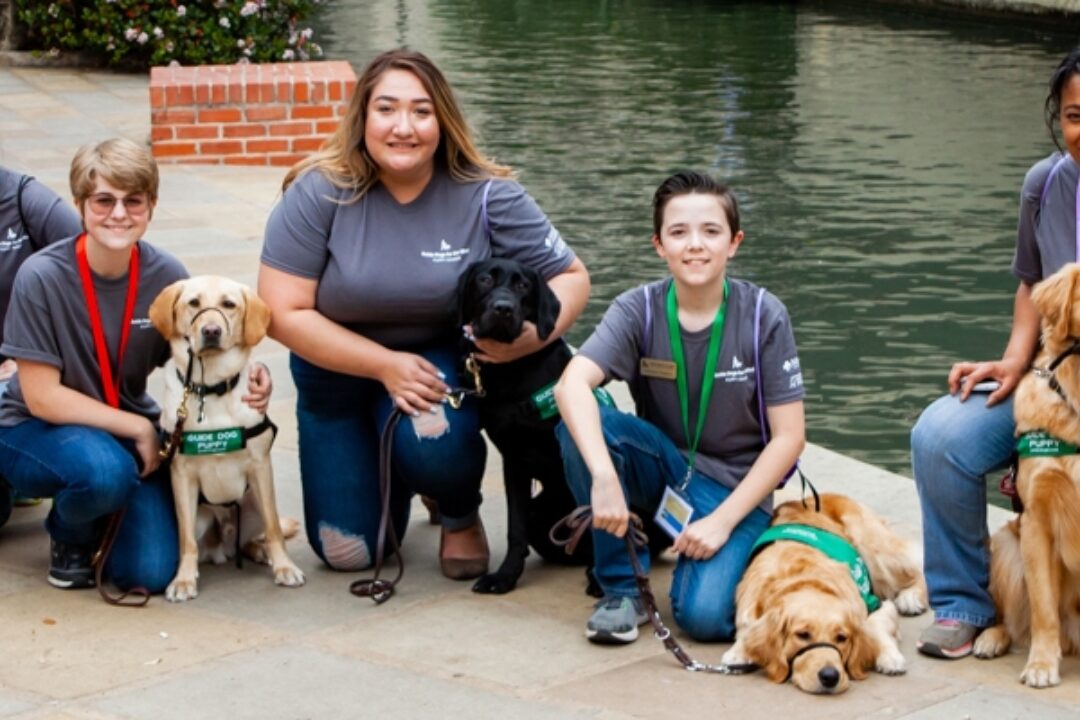 Let's Have Fun!
This is a volunteer service project that is both warm and fuzzy! Not only will you receive unconditional love and joy while helping a puppy on its journey to service, you will also be invited to celebrate if and when a puppy you raise becomes a guide dog, breeder, or K9 Buddy. You'll even become an ambassador for Guide Dogs for the Blind as you socialize the pup within your community.
What it takes
No prior experience is necessary. Puppy raising volunteers can be any age, whether you're 9 or 90. Families are great too! Puppy raisers are attentive learners, adaptable in different situations, and know that their effort and hard work will contribute to the puppy's potential. Due to the hands-on, social aspect of our training, there must be a puppy club in your area in order for you to be involved. Most importantly, you must love puppies, and enjoy being of service.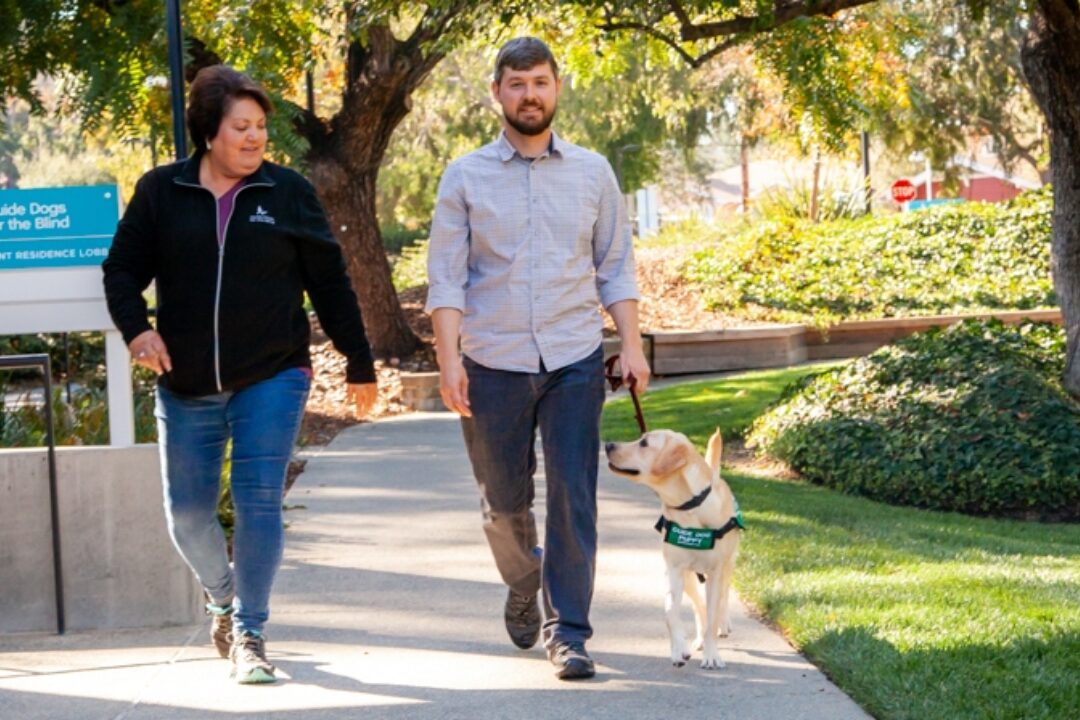 Join the club
Puppy raisers belong to one of our puppy raising clubs, located in these 10 states: Arizona, California, Colorado, Idaho, Nevada, New Mexico, Oregon, Texas, Utah, and Washington. Puppy raisers are required to attend club meetings before and during the puppy's time in your home. Led by volunteers and overseen by GDB field staff members, clubs meet regularly to work on training techniques, exchange ideas and information, participate in socialization outings, and club events.
Work with the best
Although becoming a volunteer puppy raiser is a serious commitment, you don't have to do it alone. As the leading guide dog school in North America, you will have the support of a professional regional Puppy Raising Field Manager who will make occasional visits to your home to ensure your house is puppy ready, and to provide you with all the expertise, insights, and dog-handling techniques you will need along the way.
Q: What is required of me before I become a puppy raiser?
A: Before being selected as a puppy raiser, a volunteer is required to attend several puppy club meetings in order to learn some of GDB's puppy development and training techniques, as well as experience multiple opportunities to handle puppies.

Q: How soon can I get a puppy after applying?
A: It takes approximately three months of attending puppy club meetings to fulfill the pre-requisites required to begin raising a puppy.
Q: How often do puppy clubs meet?
A: Puppy clubs meet a minimum of twice a month and sometimes more often when puppies are younger.

Q: What costs are covered in GDB's puppy raising program?
A: Veterinary care is entirely paid for by Guide Dogs for the Blind. We also provide leashes, collars, and other training equipment.
Q: What supplies does a puppy raiser need to provide?
A: Puppy raisers provide food, toys, and sometimes crates for the puppy.
Q: Can being a puppy raiser qualify as a service project?
A: GDB's puppy raising program complements many FFA, 4H, homeschooling, high school, and college programs.
Q: How old do I have to be to be a puppy raiser?
A: All ages can participate, however primary puppy raisers must be at least 9 years of age. Youth raisers must have full support from a parent or guardian, including attendance at club meetings and in management of the puppy in all settings.
Q: Can I raise a puppy if I work or go to school full time?
A: Yes, if you are able to take the puppy to work or school with you. If your work or school doesn't allow puppies in training to attend, we may be able to facilitate a co-raising arrangement in which a single puppy can be raised in two different households to accommodate raisers' work schedules and time commitments.
Q: Am I allowed to have other pets in the home while I raise a guide dog puppy?
A: Yes, as long as the other pets are well behaved and don't negatively impact the puppy's training. Our dogs need to learn to be comfortable around other animals so having other pets in the home can be extremely helpful.
Q: What type of training methods do you use with your puppies?
A: We use positive reinforcement as the basis for most of our puppy training exercises.
Q: Do puppies ever get to take a break and have fun?
A: Yes, every puppy has daily training exercises, but the rest of their day contains normal puppy activities such as playing and exercising.
Q: Do I need to have a fenced yard to raise a puppy?
A: No, a fenced yard is not absolutely required, but a puppy raiser must have access to a safe and secure outside area to relieve and exercise the puppy.
Q: What do I do with a puppy if I go on vacation or have an emergency?
A: Depending on the circumstances of the trip, a puppy may be able to accompany you on your vacation. If it is not appropriate or possible for the puppy to attend the vacation or there is an emergency, the puppy raising club leader assists with finding another puppy raising home to provide temporary care for the puppy.
Q: What happens if the puppy I'm raising does not become a guide dog?
A: Puppies that don't graduate as guide dogs, K9 Buddies, or enter into our breeding colony are known as "career change" dogs. If a puppy is career changed, it is first considered for placement with one of GDB's partner service dog organizations. If this is not an option, the puppy raiser may be given the opportunity to adopt the dog as a pet.
Q: Will I get to meet the individual who received the dog I raised?
A: Usually, yes. Puppy raisers are invited to attend the graduation of the puppy they have raised, whether the dog becomes a guide dog, a member of our breeding colony, or a K9 Buddy dog. Graduation generally includes time to meet the dog's handler or breeder custodians. There are circumstances where guide dog teams are trained in home and will not be present at a graduation ceremony.
Q: Is it hard to give the puppy up?
A: Yes. We are fortunate to have many puppy raisers who have raised more than one dog for us. They tell us that it is always hard to bring the dog back to campus for training, but their emotions are outweighed by the exciting possibility that the dog they raised could provide enhanced safety, independence, and inclusion for someone who is blind or visually impaired.
Q: Are there other ways to participate with Guide Dog for the Blind if I am unsure about making a commitment of a year or more?
A: Yes, within the puppy raising program there are opportunities for volunteers to do more than raise a puppy full time. Puppy clubs in your area are often looking for club volunteers to fill support roles, including puppy sitting, for the puppies in the club. If you live near one of our campuses in either San Rafael, CA or Boring, OR, there are many campus volunteer opportunities as well.
Looking to participate in other ways?
You can get involved with your local puppy club in other ways: help onboard new volunteers, participate in puppy sitting, consider co-raising a puppy with a fellow volunteer, or make a donation to Guide Dogs for the Blind.